mightyZAP, the micro linear servo actuating solution for the era of the 4th industrial revolution
In case that our standard actuator does not meet your requirement,
we can customize actuator for you. Please feel free to contact us to inquire customization.
Simple Customization (Minimum Q'ty: 100pcs)
Applying customized connectors on the opposite side of actuator
Customize wire length, thickness, color, wire shield, etc.
Parameter changes using Servo Manager Software from factory. (Ex -Overload Protection Off, Stroke change from 27mm to 30mm, Stroke limit change, etc)
※ According to special wire and connector's MOQ, prepayment for the actual cost of those wires and connectors may be required.
Special Customization (Minimum Q'ty: 100pcs)
※ For some cases, development cost or prepayment for special parts/material may be required.

1.  Greese
Change to special grease or spread volume change : for durability, we need to test it based on request.


※ For special grease, we may require some prepayment to secure it.
2. Rod End Tip / Rod
Special shape rod end tip.
Rod material change.
Drawing is required.
3. Rod-End Starting Point Adjustment
The general specification for the starting point (when fully retracted) tolerance is +/-0.5mm.
For the same model, there may be a slight difference in starting point depending on the assembly characteristics.
For customers who want to precisely match the starting position of the rod-end for the customer's special application, we can match the tolerance to +/- 0.1mm or less. (with some charge)
4. Firmware
Add special feature or Control characteristic change including PID value change
Ex) We are applying slightly different PID value for certain application according to customer request
5. Metal Parts (Center/Output gears, Rod-insert) 
The standard engineering plastic center gear, output gear and rod insert have been developed through intensive test considering for durability, impact resistance and lubricity.
Under special condition, however, we can apply metal parts for those plastic parts for better impact resistance.
If we apply metal parts, lifecycle of actuator will be shortened due to gear wearing (1/5 of engineering plastic gear) and mechanical play can be made faster.
Therefore, metal parts can be applied for the application whose operation frequency is not that high while they need stronger impact resistance.
Metal center gear can be applied to all stroke lineup except for 27mm stroke version.
6. Top case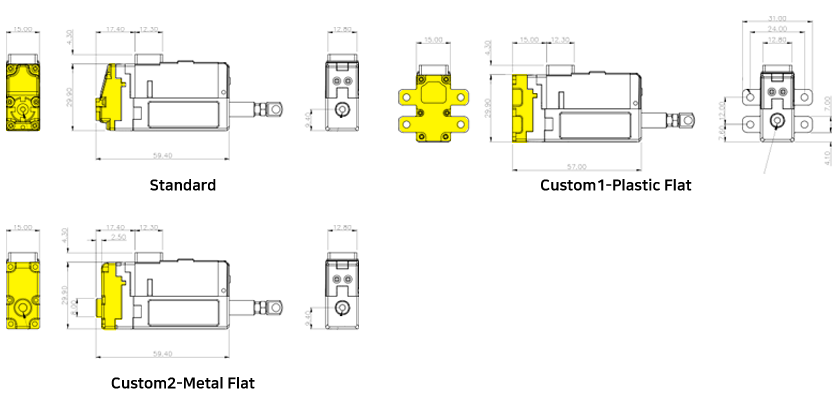 The Top case(Yellow marked) can be changed as above according to customer's request.
Custom1-Plastic Flat : Same engineering plastic material with 4 x mounting holes.
Custom2-Metal Flat : Metal alloy, Mounting hole can be customized to M3 or M4 (standard : M2.5) (Material cost to be increased).
Change at customer's side is not permitted. (Change at factory only)
7. Connector Outlet (Minimum Q'ty : 200pcs) 
Original

Custom 1 – Rubber Cap
–  Applying rubber cap without connector for water/dust tight condition.


Custom 2 – Remove Connector Outlet
– Remove connector outlet for space constraint
– Need to make a new PC board and prepayment(U$5,000) for the 500pcs PCB will be required.
– Actuator can be shipped partially(more than 50pcs)
– Prepaid amount will be deducted from the actuator cost)

8. Circuitry (Minimum Q'ty: 500pcs)
PCB change
– As mentioned before, prepayment(U$5,000) for the 500pcs PCB will be required. Actuator can be shipped partially(more than 50pcs) and prepaid amount will be deducted from the actuator cost
Special motor
– (Voltage/ Force/lifespan) : Due to MOQ of DC motor, prepayment is required for DC motor cost. Prepaid amount will be deducted from the actuator cost.
Complicated Level Customization
Minimum Q'ty: Please consult.

New mold or Mold change (Redesign shape body case)
Considerable development cost will be required due to long-term R&D period and resource.
There is a possibility that the proposal will not be adopted due to our workforce status or development plan priorities.